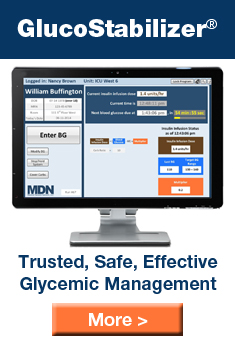 PRIDE Statement on the Need for a
Moratorium on the CMS Plan to Cite Hospitals...
...for Performing POC Capillary Glucose Monitoring on Critically Ill Patients
David C. Klonoff, Boris Draznin, Andjela Drincic, Kathleen Dungan, Roma Gianchandani, Silvio E. Inzucchi, James H. Nichols, Mark J. Rice, and Jane Jeffrie Seley, J Clin Endocrinol Metab

A writing committee of the Planning Research in Inpatient Diabetes (PRIDE) group has
written this consensus article on behalf of the group in response to a specific request for input from the Centers for Medicare and Medicaid Services (CMS). The purpose of this article is to respond to the March 13, 2015 statement from that agency regarding plans to enforce prohibition of the off-label use of point of care (POC) capillary blood glucose monitor (BGM) testing in most critically ill patients.
The article discusses:
How POC BGM testing is currently regulated;

How POC BGM testing is currently used in the United States; and

How POC BGM testing can be safely and effectively regulated in the future through cooperation between the clinician, laboratory, regulatory, industry, and patient communities.
Descriptions of current medical practice for critically ill patients were derived from the experience of the authors. Descriptions of the performance of various methods for measuring glucose levels for intensive insulin therapy came from a literature review.

The Consensus Process included eleven questions developed by the PRIDE writing group. After extensive electronic and telephone discussion, the article was written and reviewed by all nine authors and then reviewed by two outside experts in the care of critically ill patients. All suggestions by the authors and the outside experts were incorporated. More >
GLYCEMIC TARGETS IN DIABETES CARE: EMERGING CLARITY AFTER ACCORD
JOHN B. BUSE, MD, PHD, CHAPEL HILL, NORTH CAROLINA, TRANSACTIONS OF THE AMERICAN CLINICAL AND CLIMATOLOGICAL ASSOCIATION, VOL. 126, 2015

Through the 1990s convincing evidence emerged from studies involving relatively recent onset diabetes that glycemic control achieving glycated hemoglobin A1c levels of approximately 7% was associated with improved microvascular outcomes.
Based on advocacy groupsí statements encouraging lower targets and recognition of cardiovascular disease as the leading cause of death in diabetes, the Action to Control Cardiovascular Risk in Diabetes (ACCORD) study was funded in 1999 to explore more intensive targets and techniques in the treatment of type 2 diabetes.
Most surprisingly, intensive management targeting normal levels of glycemia was associated with increased mortality and the ACCORD trial was terminated early in 2008. Post hoc analyses have allowed the emergence of some clarity around the role of glycemic management and targets in diabetes care and are the subject of this review. More >
Measuring Point-of-Care Blood Glucose
in Critically Ill Patients
Nursing Critical Care, July 2015, Corl, Dawn E. MN, RN, CDE, CDTC

Critically ill patients require frequent, accurate blood glucose (BG) monitoring. BG measurement devices and sample types have significant differences related to cost, convenience, turnaround time, and accuracy. More stringent standards have been drafted for hospital point-of-care (POC) devices. Safety considerations include: blood-borne pathogen contamination, sample-related errors, interferences, and patient conditions.

Critical illness is often associated with impaired regulation of glucose homeostasis. Comorbidities such as diabetes mellitus and obesity can cause hyperglycemia in the setting of any critical illness, while the metabolic stress of surgery, sepsis, or trauma contributes to hyperglycemia in lean, nondiabetic patients. Common medications such as vasopressors, glucocorticoids, antibiotics, and enteral and parenteral nutrition also contribute to hyperglycemia. Liver and kidney failure, cachexia or malnutrition, sepsis and insulin therapy all can contribute to hypoglycemia. While the optimal target for glycemic control in critically ill patients remains controversial, considerable evidence supports improved patient outcomes when hypoglycemia (less than or equal to 70 mg/dL) and severe hyperglycemia (greater than 180-200 mg/dL) are prevented. More >
How Should Blood Glucose Meter System Analytical Performance Be Assessed?
David A. Simmons, MD, Journal of Diabetes Science and Technology

Blood glucose monitoring systems (BGMSs) are used by people with diabetes to monitor and manage their blood glucose levels, which may prevent or delay complications associated with poor glycemic control. Correspondingly, a wide array of BGMSs are available to individuals with diabetes. The accuracy of results obtained from BGMSs is important because they may be used, for example, to calculate an appropriate insulin dose; inaccurate meter system results can lead to insulin dosing errors, and these errors have the potential to be clinically important, as shown by modeling analyses. More >