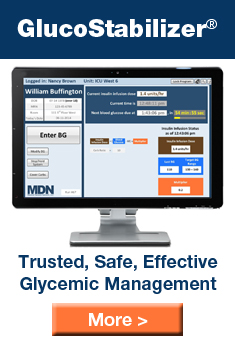 Glucose Control in Critical Care
Jeremy Clain, Kannan Ramar, Salim R Surani, World Journal of Diabetes

Glycemic control among critically-ill patients has been a topic of considerable attention for the past 15 years. An initial focus on the potentially deleterious effects of hyperglycemia led to a series of investigations regarding intensive insulin therapy strategies that targeted tight glycemic control.
As knowledge accumulated, the pursuit of tight glycemic control among critically-ill patients came to be seen as counterproductive, and moderate glycemic control came to dominate as the standard practice in intensive care units. In recent years, there has been increased focus on the importance of hypoglycemic episodes, glycemic variability, and premorbid diabetic status as factors that contribute to outcomes among critically-ill patients.
This review provides a survey of key studies on glucose control in critical care, and aims to deliver perspective regarding. More >
Hyperglycemia in Critically Ill Patients:
Management and Prognosis
Amina Godinjak, Amer Iglica, Azra Burekovic, Selma Jusufovic, Anes Ajanovic, Ira Tancica, Adis Kukuljac, Med Arh. 2015 Jun; 69(3): 157-160

Hyperglycemia is a common complication of critical illness. It was originally considered to be part of the adaptive stress-response which is beneficial for survival. However, over the past two decades, there is growing evidence that hyperglycemia is associated with increased mortality and morbidity. It is important to emphasize that hyperglycemia itself does not cause poor clinical outcome, but that is only a marker of severity of disease. Insulin resistance is an important additional factor, and it has been observed in more than 80% of critically ill patients. More >
Retrospective Study of Glycemic Control Following Transition From the Intensive Care Unit in a National Sample of US Hospitals
Bersoux S, Cook CB, Kongable GL, Shu J
This retrospective study was designed to evaluate glycemic control outcomes after transition from the intensive care unit (ICU) to a non-ICU area in a national sample of US hospitals.
Mean point-of-care blood glucose (POC-BG) data were assessed overall and at 24 hours before and up to 72 hours after the transition. Comparisons in glucose variability (standard deviation of POC-BG data) were assessed. Impact on glycemic control was evaluated after accounting for hospital characteristics through logistic regression analysis. More >
Perioperative tight glucose control reduces postoperative adverse events in non-diabetic cardiac
surgery patients

This article discusses how tight glucose control (TGC) reduces morbidity and mortality in patients undergoing elective cardiac surgery, but only limited data about its optimal timing are available to date. The objective was to compare the effects of perioperative (PERI) versus postoperative (POST) initiation of TGC on postoperative adverse events in cardiac surgery patients in a single center, single-blind, parallel-group, randomized controlled trial. More >
Influence of a strict glucose protocol on serum potassium and glucose concentrations and their association with mortality in intensive care patients
Esther V. Uijtendaal, Critical Care, June 2015

Tight glucose control therapy (TGC) has been implemented to control hyperglycemia in ICU patients. TGC may also influence serum potassium concentrations. We therefore investigated the influence of TGC on both serum glucose and serum potassium concentrations and associated mortality. More >
Time in blood glucose range 70 to 140 mg/dl >80% is strongly associated with increased survival in non-diabetic critically ill adults
James S Krinsley and Jean-Charles Preiser

Hyperglycemia, hypoglycemia and increased glucose variability are independently associated with
increased risk of death in critically ill adults. The relationship between time in targeted blood glucose range (TIR) and mortality is not well described and may be a factor that has confounded the results of the major interventional trials of intensive insulin therapy.

In this study, the authors conducted a retrospective analysis of prospectively collected data involving 3,297 patients with intensive care unit (ICU) lengths of stay (LOS) of ≥1.0 day who were admitted between 1 January 2009 and 31 December 2013 to a single mixed medical-surgical ICU. We investigated the relationship between TIR 70 to 140 mg/dl with mortality and compared outcomes of non-diabetics (NON) and individuals with diabetes mellitus (DM), including stratifying by TIR above (TIR-hi) and below (TIR-lo) the median value for the NON and DM groups. More >
Easier Blood-Sugar Monitoring for Diabetics
Advances include smart contact lenses and improved continuous glucose monitors
By Joseph Walker, June 29, 2015, The Wall Street Journal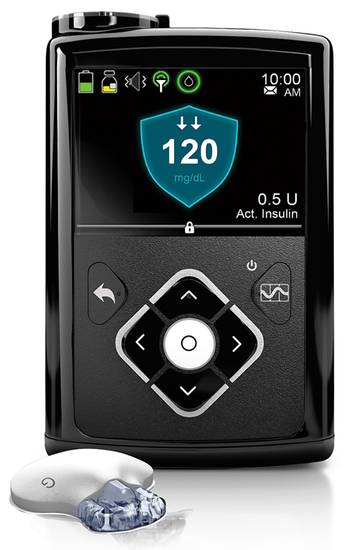 A new generation of devices promises an easier way to measure blood sugar in people with diabetes—and in doing so reduce the chances that the disease will lead to long-term complications.

Building on advances in wireless telecommunications, nanotechnology and predictive software algorithms, the devices aim to automate a daily chore that most patients still perform manually by drawing blood samples with a prick of the finger, a tedious and sometimes painful measurement technique.

Diabetes, which affects 29 million people in the U.S., occurs when the body is unable to metabolize sugar, or glucose, into energy, leading to high concentrations of sugar in the blood. If left untreated, diabetes can lead to long-term complications including blindness, heart disease and kidney damage.
Some diabetic patients prick their fingers as many as 10 times a day to track their blood sugar. But doctors say finger pricking provides only a snapshot of blood sugar and doesn't show whether it is rising or falling to potentially dangerous levels. More >
Performance of Cleared Blood Glucose Monitors
David C. Klonoff, MD, FACP, FRCP (Edin), Fellow AIMBE1, and Priya Prahalad, MD, PhD, Journal of Diabetes Science and Technology, June 2015

Cleared blood glucose monitor (BGM) systems do not always perform as accurately for users as they did to become cleared. We performed a literature review of recent publications between 2010 and 2014 that present data about the frequency of inaccurate performance using ISO 15197 2003 and ISO 15197 2013 as target standards. We performed an additional literature review of publications that present data about the clinical and economic risks of inaccurate BGMs for making treatment decisions or calibrating continuous glucose monitors (CGMs). More >
Effect of Continuous Glucose Monitoring Accuracy on Clinicians' Retrospective Decision Making in Diabetes: A Pilot Study
Zeinab Mahmoudi, PhD1, Mette Dencker Johansen, PhD, Hanne Holdflod Nørgaard, RN, Steen Andersen, MD, Ulrik Pedersen-Bjergaard, MD, Lise Tarnow, MD,, Jens Sandahl Christiansen, MD, DMSc, FRCPI, and Ole Hejlesen, PhD, Journal of Diabetes Science and Technology, June 2015

The use of continuous glucose monitoring (CGM) in clinical decision making in diabetes could be limited by
the inaccuracy of CGM data when compared to plasma glucose measurements. The aim of the present study is to investigate the impact of CGM numerical accuracy on the precision of diabetes treatment adjustments. CGM profiles with maximum 5-day duration from 12 patients with type 1 diabetes treated with a basal-bolus insulin regimen were processed by 2 CGM algorithms, with the accuracy of algorithm 2 being higher than the accuracy of algorithm 1, using the median absolute relative difference (MARD) as the measure of accuracy. More >